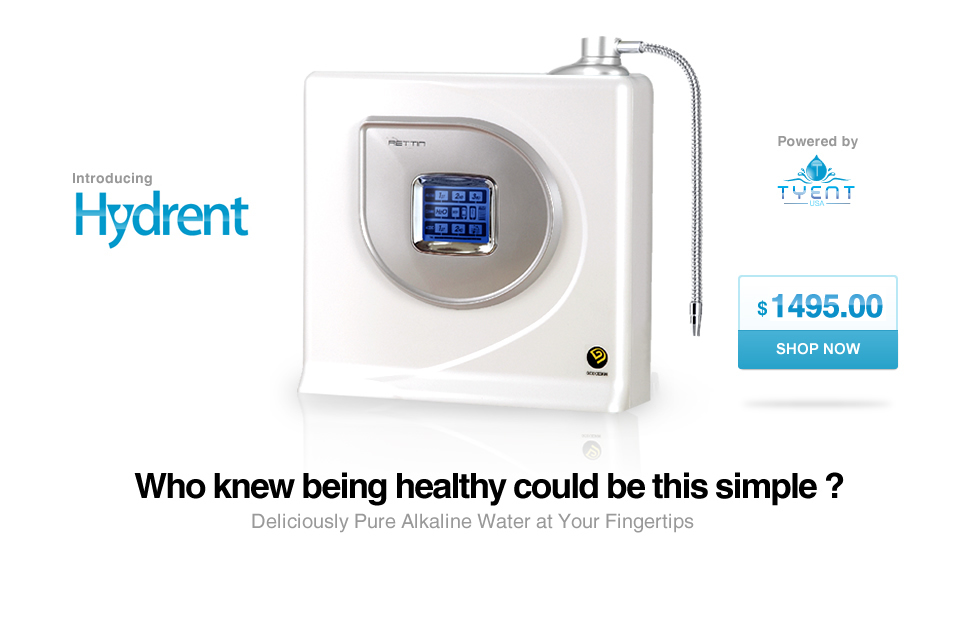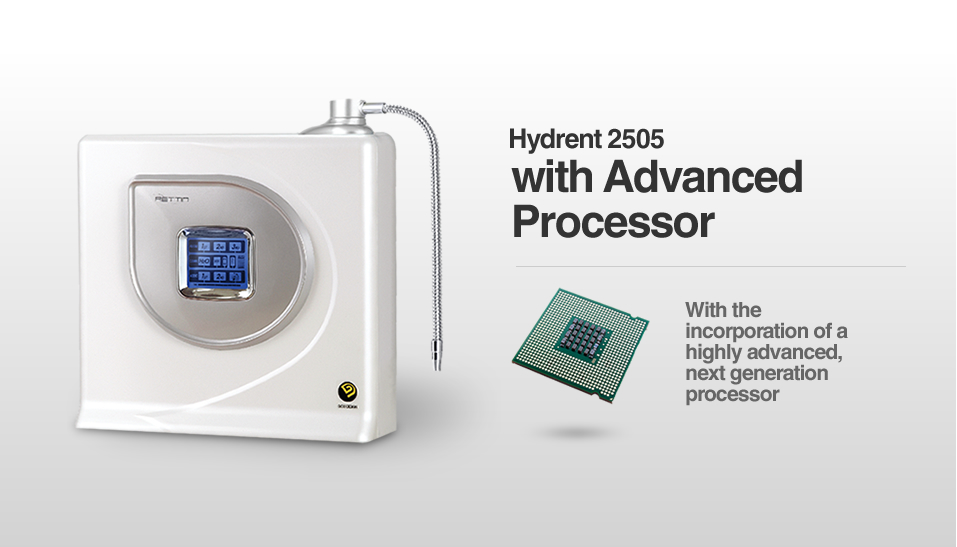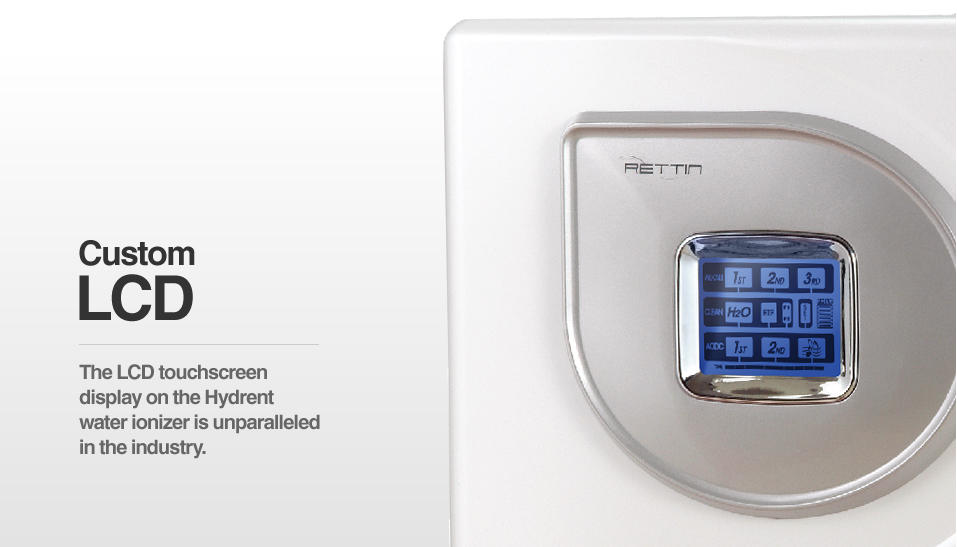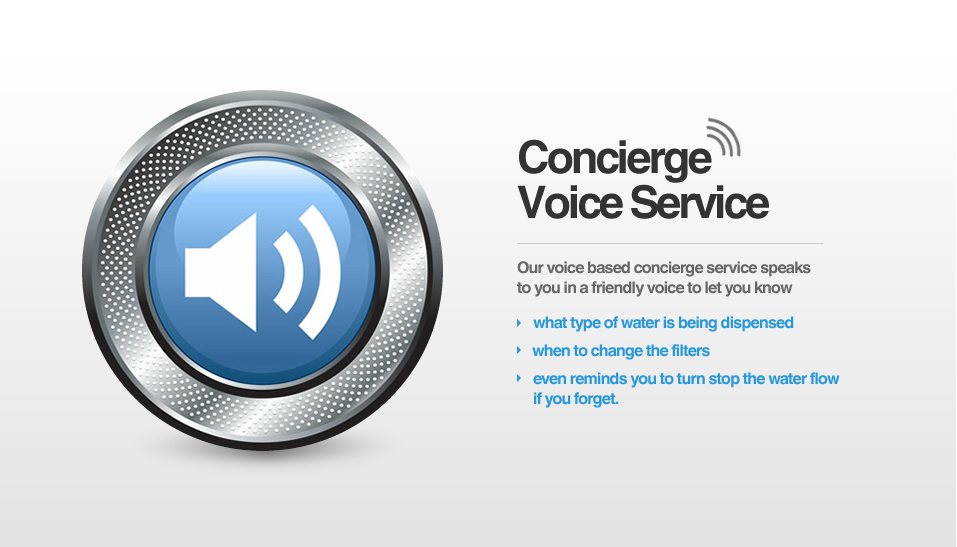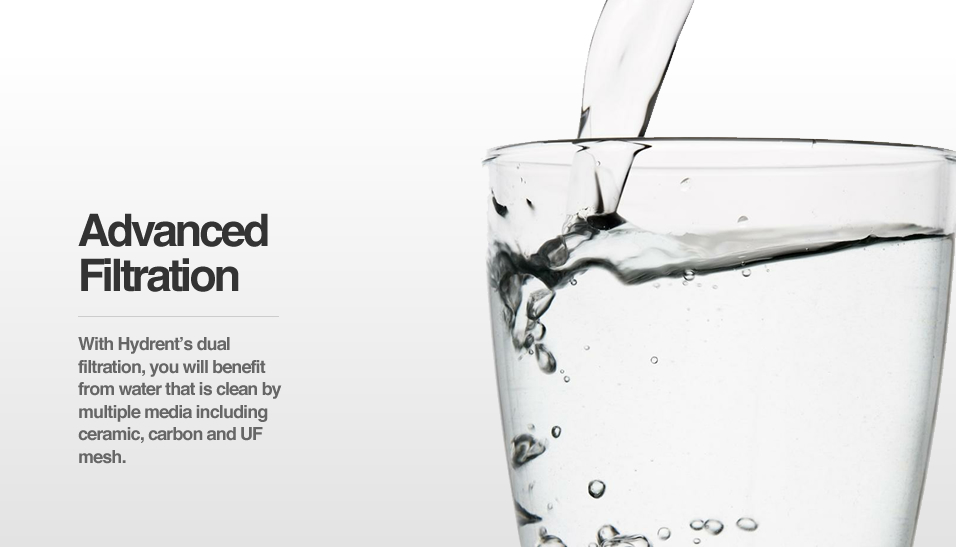 Every operation is controlled by CPU chip, and regarding water quantity and quality, it finds the optimal operating condition and controls, Every operation is controlled by CPU chip, and regarding water quantity and quality, it finds the optimal operating condition .
Advanced Processor

With the incorporation of a highly advanced, next generation processor, the Hydrent water ionizer has bragging rights to a full range of features. The processor is the brains of any system and with the Hydrent water ionizer, you will enjoy an amazingly responsive, easy to use, highly intelligent water ionization system that is sure to meet all of your expectations. To learn more about the processing power of the Hydrent, keep reading so you can understand all of the wonderful features that are supported by this next generation processor.

Custom LCD

The LCD touchscreen display on the Hydrent water ionizer is unparalleled in the industry. Sourced from the leader in water ionizer (Tyent USA), this technology is a huge advancement in ease of use. Imaging having a touchscreen computer available to serve you the healthiest glass of water on the planet. With Hydrent, great tasting, super hydrating, alkaline water is always at your fingertips. With 3 alkaline, 2 acidic, and a pure H2O button, you have everything you need to pick the perfect water. This amazing display changes color depending on your water selection. The color change represents the pH level of the water being dispensed for fool proof operation. Get the perfect glass of water every time with the Hydrent water ionizer.

Concierge Voice Service

They Hydrent water ionizer is on standby to address your every hydration need. Our voice based concierge service speaks to you in a friendly voice to let you know what type of water is being dispensed, when to change the filters, and it even reminds you to turn stop the water flow if you forget. You will learn to look forward to the inviting sounds of the Hydrent water ionization system. The friendly Hydrent voice will serve as a reminder that you are drinking the healthiest water on the planet. You can even adjust the volume to suit your liking. This fantastic futuristic technology ensures that the Hydrent is the reigning champ when it comes to ease of use.

Water Cell

The water cell is the heart of any water ionizer. With plates that are approximately 5 x 7 inches in size, you can count of a wonderful pH and ORP range from your Hydrent water ionizer. Housing 5 platinum coated titanium plates, the Hydrent water cell is guaranteed safe and effective. Since Hydrent never uses chemicals to create alkaline or acidic water, you can rest easy knowing that your family is drinking the healthiest and safest water available. All Hydrent water ionizers are made in Korea in an ISO 9001 and 14001 certified factory which ensures quality inside and out.

Advanced Filtration

Filtration is topic that is too often overlooked by consumers. While alkaline water is certainly the best and healthiest water available, if it isn't filtered properly it the healthy factor deteriorates quickly. With Hydrent's dual filtration, you will benefit from water that is clean by multiple media including ceramic, carbon and UF mesh. With Hydrent filters at work, you can count on clean alkaline water every single time. With a estimated life of 9-12 months, Hydrent's filtration system is an affordable and effective method for providing purity.

SMPS Plus

The SMPS was invented many years ago to replace the old style transformer that was used for water ionization many years ago. Since then Hydrent has created the 7 generation SMPS PLUS. This power system is unlike any other because it offers over 50 adjustable power settings. With this many power settings, the SMPS PLUS can function with almost any source water. Insist on the SMPS PLUS and you will have a trouble free experience that can handle anything that you throw at it.

Automatic Water Shutoff

Have you ever left the water running and walked away? Our focus groups found that 4 out of 5 people admit to getting distracted while filling up a pot or a glass of water. With a water ionizer, this can mean disaster because many users will set a glass on the counter and fill it with fresh alkaline water. With Hydrent, the automatic water shutoff can save the day. If you walk away and forget that you are filling your glass or pot with alkaline water, an audible alert will remind to get back to the sink. If that isn't enough, after a pre-programmed amount of time, the Hydrent will automatically stop the flow of the water preventing a disastrous flood. Without this feature, our competition is all wet.

Real Time Refresh

With Hydrent's Real Time Refresh (RTR) feature, you can rest easy knowing that your water ionizer is always as clean as can be. This self-cleaning system is unsurpassed in the industry. The RTR functionality will reverse the polarity of the plates inside the hydrant, thus repelling any scale buildup and debris. With RTR, your water ionizer will continue to work like the day you bought it because it is being properly maintained through Hydrent's RTR system.